Laundromat
Self-Service Laundrette Belfast
Coin Operated Laundry Belfast
Globe Laundrette drycleaners providing the best cleaning service – Dry cleaning and service washing, laundrette for your clothes care, and commercial laundry ironing service at more affordable prices in Belfast.
Globe Laundrette is convenient, effective, and can save you money.
It's open 360 days a year, 7 days a week:
Monday – Friday: 7am – 9pm
Saturdays: 7am – 6pm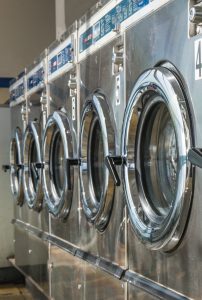 Sundays: 12 – 6pm
Laundrette – Belfast Self-service laundry
Providing customers a safe, comfortable, temperature-controlled environment with cable television access while you wait. The well-maintained facilities are exceptionally clean and well lit and safety. Tea and Coffee is available to further provide customer comfort. New, high efficiency dryers reduce drying temperature but using A huge fan to dry your clothes saving time which in turn saves you money.
Service Washes (Wash & Fold)
If you prefer not to use our self-service facilities you can leave your laundry at the counter to be washed, dried and beautifully folded. Service washes are processed all day. If you're really pushed for time you can take advantage of our service wash. Treat yourself!